Over 220 community volunteers support the Family Support Center's mission "Working Together to Strengthen All Families". We thank you for your service and generosity. We appreciate you!
Current volunteers click here for access to Volgistics for scheduling.
September 2015 Volunteer Spotlight: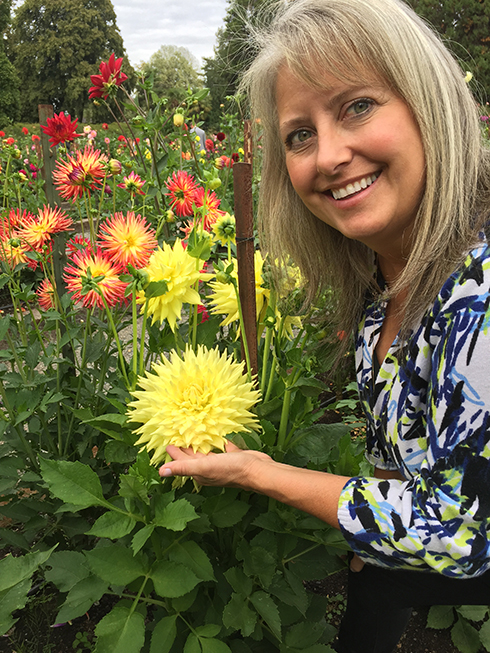 Rita Reynoldson
Happy anniversary Rita Reynoldson, our September volunteer spotlight! As of this month, she's been volunteering at Pear Blossom Place as a greeter for one full year!
"I love seeing how a life changing or devastating situation for our families can turn into a purpose driven life with the kind words, caring hearts and direction from our staff," Rita responded when I asked what kept her coming back. "The families are given hope for a better life, and often times a listening ear and maybe a shoulder to cry on as well…I love getting to know them and the volunteers, I feel such a sense of connection as their hearts are in such a giving, loving place!"
The soft-spoken tender Rita surprised me when she shared that she worked for 17 years as a Correctional Officer at the Department of Corrections, now working for Correctional industries. "I am a Custodial/Laundry operations supervisor," Rita explained. "I have 27 years working with male offenders." She shared that she often travels to the minimum security camps in Forks, Vancouver and Littlerock Washington, reliving the supervisors and supervising offenders while washing clothing. "When I am not relieving other supervisors, I supervise a crew of offenders cleaning the Correctional Industries and Department of Natural Resources buildings; (we) do all the grounds maintenance work for both departments," she said.
Rita shared that her passion comes from religious roots; she feels a deep sense of dedication to human services although she doesn't have the money or resources to give…"I am passionate about being the hands and feet of God, by helping others in any way that I can. I do not have the resources to give to these meaningful organizations but, I do have time and a willing heart," Rita explained.
The adventurous volunteer comes to us originally from Kalamazoo, Michigan. When she's not out doing her good deeds to help others, she loves day hikes, the beach, movies and floating in the lake on hot summer days. She was also quick to speak of her two beautiful daughters, who she's very proud of!
I had reach out to Rita about being a volunteer spotlight before, but she was away on a wonderful vacation! "I was blessed to join my sister and her family to a trip in Hawaii for the first time," she told me—lucky gal! "I learned how to snorkel and went on five zip lines, the longest being 600 feet high and a ½ a mile long. WOW that was the best trip ever!"
I was inspired when in addition to that, Rita told me she felt like she was on vacation 365 days a year; "I decided a few years ago to live a simple and more meaningful life. So I sold all my belongings and rented out my house, bought a 5th wheel and live in the most heavenly, amazingly beautiful, unhurried, unpretentious place and I am right on the lake…I recommend it to anyone that wants to get away from the hustle and bustle of life." That sounds like a dream—you deserve your own slice of heaven for all the beautiful work you do!
Congrats, and thanks for your good work Rita!