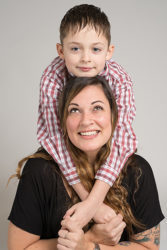 Family Support Center of South Sound

is a nonprofit 501c3 multi-service agency located in Olympia, Washington, founded in 1992. The agency provides over 4,000 parents, children, and survivors of violence with coordinated, supportive services in one centralized location.   You can learn more about our programs and services HERE.
Our Mission

- "Working Together to Strengthen All Families"
Our Vision

- We envision a community where all families are valued, nurtured, and have the resources to be strong, healthy, and self sufficient.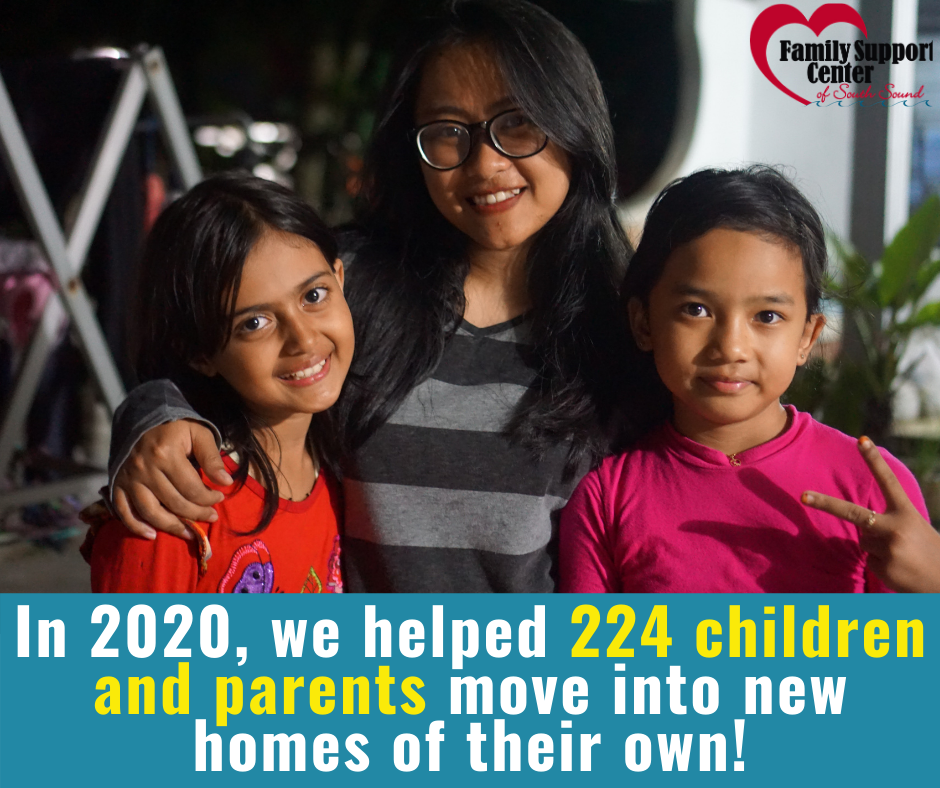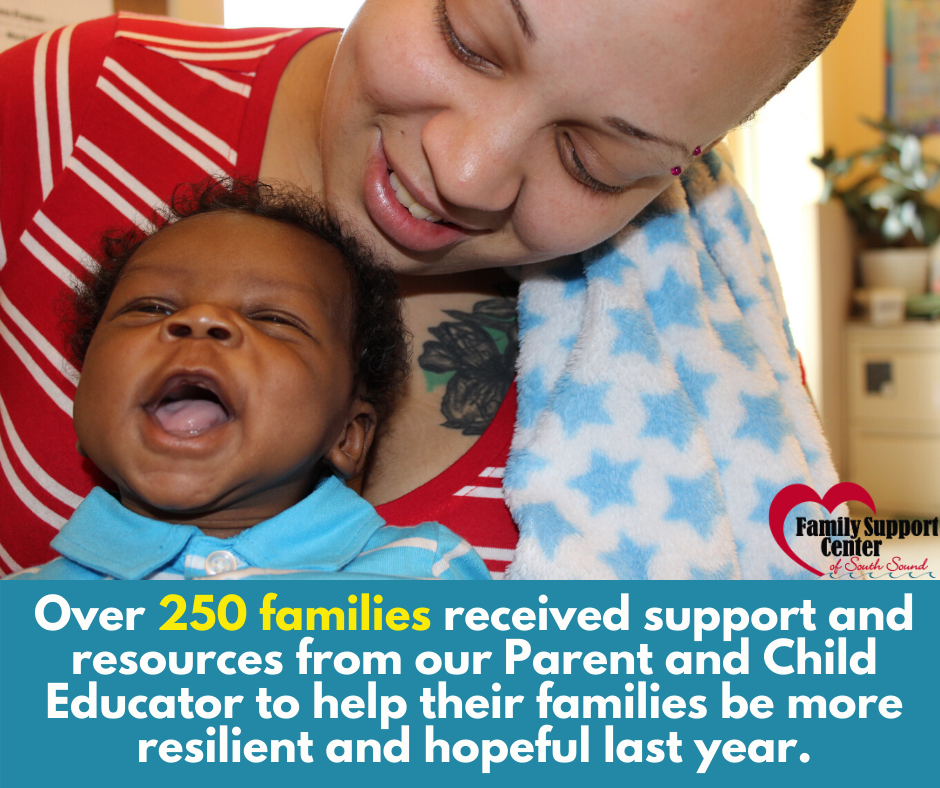 How We Can Help You and Your Family:
If you and your family are currently experiencing homelessness (sleeping in a tent, car, shed, or other location not 'meant for habitation'), please contact our Homeless Family Services Program by calling 360-754-9297 x 200. To find out more about this program, CLICK HERE.
If you are a family  in need of shelter, please contact 360-754-9297 x 200 to be connected to our Pear Blossom Place family shelter, Monday-Friday from 9am-5pm. To learn more about this program, CLICK HERE. If you need shelter and it is after hours, please contact the 24/7 Thurston County's Coordinated Entry Shelter and Housing hotline at 1-844-628-7343.
If you are being evicted, are about to have your utilities shut off, need help with basic items such as diapers or hygiene supplies, or need help navigating the community's resources, please reach out to our Family Resource Services Program by calling 360-754-9297 x 377. To find out more about this program, CLICK HERE.
If you or someone you know are currently in an unsafe relationship, we are here to help. Please contact our Family Justice Center Program by calling 360-754-9297 x 200 to speak with a confidential advocate who can help explain what options are available, help create a plan to keep you safe, and provide general support. To learn more about this program, CLICK HERE.
The Parent and Child Education Program hosts a number of formal and informal groups each month, including FREE Power Parenting Workshops and a Breast/chest feeding support group, as well as providing 1:1 parental support for the entire community. To learn more about this program, CLICK HERE.
'Live' Nightly Auctions - May 3-8!
Not sure what to get mom? No worries! Bid on one of our great auction items just in time for Mother's Day! Register once and you can bid all week long. Register today by CLICKING HERE!
We encourage everyone to join us for our Annual Mother's Day 5K! Even though things are a little different this year, we still want to have fun with our community. Our solution?  A VIRTUAL 5K!  You even get a whole week to do it! Our Virtual Mother's Day 5K will kick off on Monday, May 3rd and end on Mother's Day - Sunday, May 9. You can walk, run, or roll the whole 5k, or 1 Mile Kids Run, at once or break it up into smaller chunks, just post those results on our

Facebook page

by 11:59pm on May 9th! CLICK HERE TO LEARN MORE
A Whole Week of Celebrating Moms!



Live Auctions – We will have live auction Monday – Saturday. Packages include a Wine and Ski Basket, a lovely Living Floral Arrangement, gift certificate packages from local restaurants, and more! Follow our Facebook page to learn more.
'Spoil a Mom' Package! – During Mother's Day weekend we will deliver a custom card, a bouquet of flowers, and sweet treats from a local bakery to a mom in your life…it could be your mom, a fabulous maternal figure who made a difference in your life, or a mom who needs a boost. LEARN MORE!
Cards for a Cause – We will send a custom Mother's Day card to a special mom in your life for you! Choose from three gift levels ($10, $25, and $50), let us know what message you want us to write, and tell us where to send it. It is that easy! Select your card(s) today!
Make Lavender Sachets as a gift for (or with!) mom, Thursday, May 6th from 6-7pm. $25 – Registration Opens Soon!
Photo Contest – Happening All Week Long! Make sure to follow our Facebook page so you can check it out.
Join us for this one-hour class on Thursday, May 6th from 6-7pm for this fun workshop. These sachets may look fancy, but they are SO EASY to make! This class would be a great project to do with your mom as an early Mother's Day gift too. We are doing a Mom and Me special for $40 (includes 2 kits)! Proceeds support parents, children, and survivors in our community.
1 person = $25
Mom and Me = $40
1 Household = $60 (supplies for 4 people in 1 kit)
Materials can be picked up at The Family Support Center Campus Tuesday, May 4 – Thursday, May 6 from 10am-4pm.  If you cannot pick up the supplies or have any questions, please contact Maija at
maijag@fscss.org
.
You will find us at the Family Support of South Sound Campus located at:
Joining us in our new buildings include many friends who have like-minded missions that compliment our work. We warmly welcome: United Way of Thurston County, Catholic Community Services (SSVF, Volunteer Chores, and Bus Buddy programs), Junior League of Olympia, Thurston County Volunteer Legal Services, Thurston County Prosecutors Office- Felony and Misdemeanor Domestic Violence Teams, Crime Victim Advocacy Network, Innovations Human Trafficking Collaborative, Enriching Therapy, Beautiful Instant Psychotherapy and Wellness, Thurston County Clerks Office, Thurston County Sheriffs Department, Adult Protective Services.